"there is peace even in the storm"
~~~ vincent van gogh, letters of vincent van gogh~~~

i was struck by the quietness, the physical one that is of the episode. after all the thunder and chaos of the last few days, a sudden lowering of decibel... and perhaps the most sombre, keening episode of ipk till now.

the sense of an aftermath. the deed is done. nothing will change the fact... nothing, khushi says as much to payal. now what.

however even in the midst of this bated waiting, the storm continued below the surface. a family had to find its equilibrium. and two people had to find their tether, their shaken inner selves.

there were at least four places where i felt my heart rise and feel the beauty and triumph of these agony filled moments. for no matter how terrifying the whole thing, how egregious, there was beauty in it always. as there is in all momentous events in life i guess. what could easily become melodrama, the creators of ipk and its actors often turned into a moment with the throb of life in it. i felt, i connected, i went to places within. something always edifying in its core, even in the most difficult times of the show which will be on us soon.

i have two favourite moments in this episode.

actually the first one is my most favourite. it's when khushi, despite everything... despite being bludgeoned into marrying a man she actually loved, despite being disowned by her family who loved her like their own but now said she had acted like this because she was not their blood, despite being doubted even by payal her greatest friend and support whose wedding night is in disarray... and despite collapsing in a heap on the floor, weeping helplessly, finally decided to get up.

she held her mangalsutra and remembered the wedding again.

her whole life possibly flashed in her mind... she had lost early in life, she had been found, loved, she had weathered the storm... and tonight with the tying of this necklace forced on her, everything seemed to be torn asunder again... even jiji had walked away.

she looked up. there was the room of the man who had been so brutal. her lips trembled, the tears poured, yet she stood up, and looked around, many thoughts in her eyes... she seemed to brace herself... and as rabba vey dimmed she took her first step... going unerringly to where she had to go... how helpless and how triumphant in a moment darker than chaos.

the music sensed her.

it didn't holler and shout. it went soft and melodious, a beautiful bride was coming home after all.. so what if the whole world had deserted her, life wouldn't, music wouldn't. raju singh/arshad khan/lalit mohan, super touch.

khushi was magnificent to me at that moment.

this gutsy toughness, almost a ruggedness which she cloaks herself with consciously, is one of my heroine's most endearing and admirable traits. she is essentially strong and she has what's called "sanskar", her values. when everything goes haywire, she turns to them and does what she believes is the right thing. in this she is exactly like the man who has wronged her. she is so important in my world where girls are encouraged to be less, be demure, accede to the man's wishes no matter what. not many serials have a character like khushi and sanaya made her so much more than just a jhalli funky girl with charming notes and a goodness... she was a powerful character. this wedding showed us that.

as for asr, the protagonist who'd erred... yes, no doubt about it, even if not meaning to, even if deeply in love with her, even if because he was torn asunder, his action toward her was not right... yet that man too, without being into "sanskar" as such had a basis in conscience, a fundamental and an abiding sense of duty and doing the right thing.
the writing was beautiful for this reason, for it took his very character, his strength, and turned it into the cause of his most hurtful act. irony. we humans and the game that life plays with us, pulling the carpet from under our feet when we are least prepared. had he had even a shred of wiliness or the not straight in him, he might have reacted differently. but here he saw what he thought he saw and everything fell apart in him... his sense of duty floated to the top... he held onto that and took a decision which he thought was right... yet, i have feeling he knew it was not... which is why he paced, he ached, he sat almost numbed by his own act. and he remembered not just his sister, but khushi.

khushi being slapped by her mother. it felt like a body blow almost, for him.

the second scene came right at the end of the episode. a man was reflected alone in a rear view mirror as he fixed his opponent with a lethal stare. a warning in it, a sense of life and death in it. just before that he'd found the man whose very being had become abhorrent but whom he would tolerate again because of that sense of right... for his di, her child.. give shyam a chance. but before leaving, he'd turned back. and given lie to his own assertion to khushi that she would be his wife in name only. yeh sindoor, yeh mangalsutra sirf ek samjhauta hai.

then why did he feel the need to warn shyam off khushi not with the threat of physical harm but with a claiming through gritted teeth? meri patttni.

he'd turned away after giving his ultimatum to shyam. but then he stopped and his eyes moved toward the evil.
"aur haan... jija ji, tum mujhse ek aur baat kahi thi... ki tum khushi se kabhi alag nahin hogey..." and yes, jija ji, you'd told me one other thing, that you'd never part with khushi.

he took a step forward, "well ab, khushi meri pattni hai..."

well, now khushi is my wife. that fabulous stress on the "t". patni... he doesn't opt for the english, wife, a language that slips into his language all the time. instead, patni... an old word from his roots. a sanctity in the very utterance, meri patni.

with the same tongue that he denied his adherence his belonging to this relationship, he proclaimed the very relationship. i fell flat in a bit of seetee bajao mode. barun was too good, asr was fabulous.

usske aas paas bhatakne ki koshish bhi mat karna... don't even dare.

don't even try to lurk anywhere near her. don't even dare.

a terrible confrontation with evil... and reflections again... now a man alone in a mirror... he had been with another in a mirror just a while back but for such a short while. ephemeral this thing we call happiness.

there was something hindi movieish about that waylaying of shyam and the threat, but barun took it to a high... again i thought of michael corleone.

khushi went to the room which would be hers from now on. no coyness, no waiting to be taken to her new bedroom... a quiet walk, with each step a girl took step toward womanhood perhaps.
she came to her room. and at the door a strange sight... he sat dark and immersed in pain on his chaise longue. for a moment it felt to me as though they had been married for years and this was a difficult day in their lives... there was always so much connection, it's hard to think of them as people who have just married,

she walked in and closed the door confidently. i liked that taking over of her space.

and she went to arnav ji to tell him what she had to. no one was hers tonight... no one... not even him, he had said. but she went anyway, maybe because some part of her knew she could. no matter what.

and she collapsed on the floor before him... beautiful reading of a moment... of its place in one's life. he sat... they were so together in that moment. a couple. in a mess...

when she opened her mouth next, i realised it was a voice over... sanaya had lost her voice. i wonder if the strain of the days leading up to these episodes, the constant plumbing of deep emotions of many kinds, now happy now sad now terrified now in love, had taken its toll.

hum aat saal ke the... i was only eight when i was orphaned... tonight i became an orphan again, arnav ji. aaj hum pir se anath ho gaye, arnav ji.

the utter sadness and helplessness of it all. the unfairness.

he looked at her sitting there... feeling her pain perhaps knowing his role in it...

sad sad moment. he had never ever meant to do this to her. and yet... here they were.

i can't change things, lekin humare liye yeh janna bahut zaroori hai ki yeh aapne kyon kiya... but it is very important for me to know why you did it.
he will not tell her. of course, story needs him to not say anything. but also heart soul emotion psychology. he could never ever say to her she was in another man's arms. he couldn't bring himself to. it made him go crazy... and maybe it felt just so terrible to utter especially to her as if her innocence her unmarked untouched purity, the one he believed in, the one that touched him so much, would go.

music picked tempo, inner rage, asr's eyes started to gather anger.

slightest change of lines on barun's face and such a vast change in emotion.

he tried to walk away, but ek minute, mister arnav singh raizada!

she staked her claim as his wife... in office maybe you can walk away, but not here... here you must answer... you can't leave till you tell me why you've done this.

a couple that has been married for years... i got the feeling again. the tone and array of the fight had a sense of familiarity. married people have such wild run ins.

nostrils flaring with rage... seething, he turned. she raged and shot forward grasping his arms...batate kyon nahin aapne yeh sab kyon kiya! why aren't you saying why you did this! you answer me, you can't ruin my life like this and keep quiet.

and she pushed him as she had done before... anger spiraling, why why have you done this... she screamed about the significance of mangalsutra sindoor...

he is silent..

isska ek matlab bhi hota hai. it means something... aur yeh sindoor...

his eyes moved imperceptibly almost to see the streak of red...

i miss sanaya's take, i know she'd have done goosebump giving stuff with the words that flew around, all about wife, husband, right, wrong, jawab, answer...love was never mentioned but always there... i was reminded of the feast of esther when it is said god's name is never mentioned but god is always there. it's a time of disguise when you must dress in away no one can recognise you and drink much so you almost can't tell good from evil.

had love dressed up in such a suit of anger and hate we couldn't see it.

yet we could feel it all the time, couldn't we.

she shoves him again on kyon kiya aapne aiasa.

he is still silent.

at last he held her arms, stopped her and swung her around.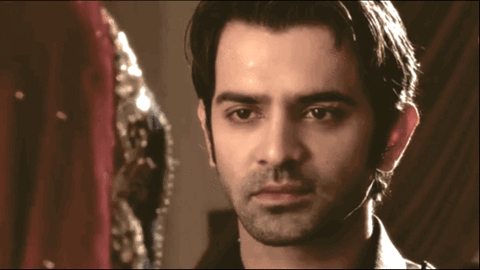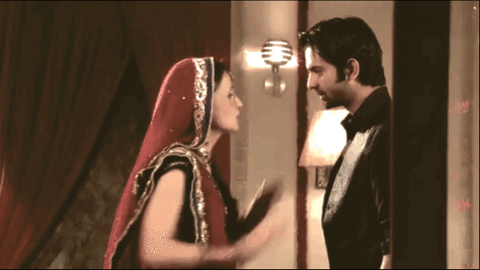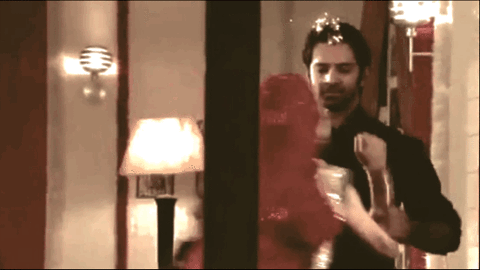 itna gussa kyon aa raha hai? why are you getting so angry? he asked scathingly.

dikha rahi ho, you're pretending... tumhe jo kuch chahiye tha wo toh tumhe mil gaya, you got what you wanted... ek amir admi, a rich man... am i right? khushi kumari gupta?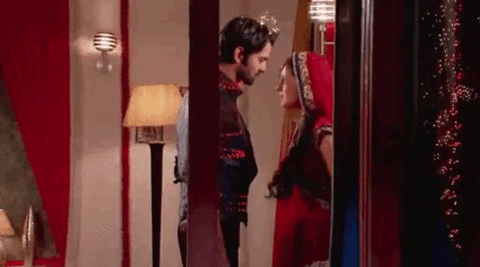 he turned to leave, she caught him again, a hand on his shoulder a manic anger in her eyes. i won't let you go till you answer, she said. main tumhare kisi bhi sawal ka jawab dena zaroori nahin samajhta. i don't think it's necessary to answer any of your questions, he retorted.

they have often fought and scrapped but tonight it reaches another level of engagement, a deep thick bitterness, something adult and deathly in it... how will this resolve... the fire is blazing annihilating...
in its heart though one can feel a sukoon, a peace... she is in his room, his life, she... his pattni.
..................................
ps: barun's voice when he said to shyam... jaanta hoon, issi liye kar raha hoon. grey, sleek, grainy, low and poised to strike, to kill. got me.